Strategies for Effective Engagement Between the African Diaspora and African Media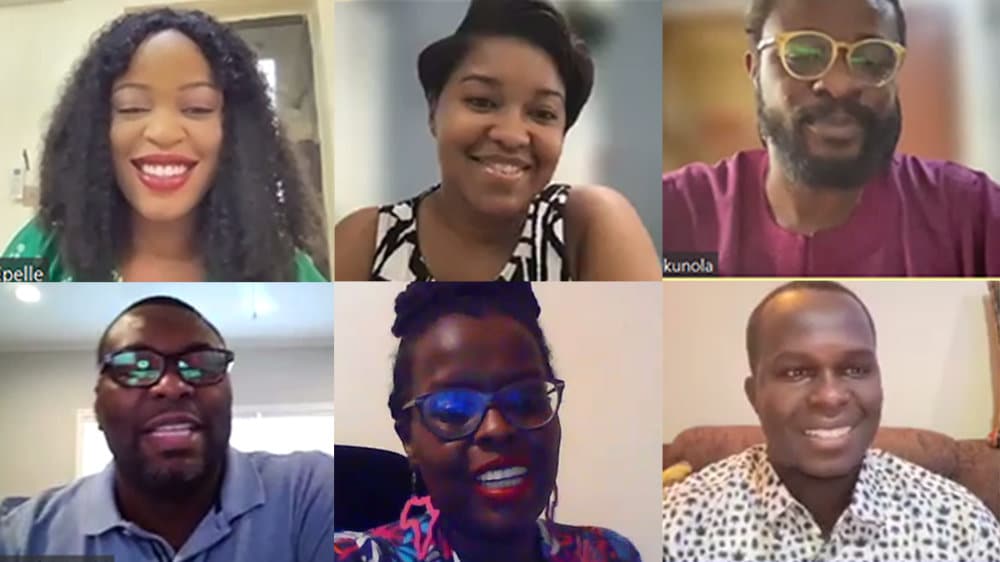 Celebrated annually, Africa Day commemorates the founding of the Organization of African Unity (OAU) on 25 May 1963. In 2002, the OAU was translated to the African Union (AU) and is the body responsible for catalyzing political and economic integration among its 54 member nations to boost development, eradicate poverty, and bring Africa into the global economy. In celebration of Africa Day, the African Diaspora Network (ADN) in partnership with Baobab Consulting organized a media roundtable, hosting journalists and welcoming African and Diasporan audiences for a virtual meeting that emphasized the importance of the African media synergizing with the African Diaspora for increased information flows.
The 90-minute discussion featured Journalists from across the continent and Diaspora and personal experiences informed how to bring the African media and African Diaspora together to amplify the needs, successes, and affairs of the continent and its diaspora.
Journalists on the media roundtable included; Ciku Kimeria (Africa Editor, Quartz), Akindare Okunola (Content and Communications Manager, West Africa at Global Citizen), JC Whittington (Video Journalist,  Politico), Felix Maringa (Nairobi based Correspondent, Deutsche Welle News), and Wale Adekanbi (Lead Designer, NBC Universal). 
The conversation covered challenges for African storytellers working to craft a new narrative, framing and agenda-setting in media reporting on Africa from the diaspora, and insights on how to facilitate stakeholder coordination for the propagation of African news stories.
Overview
According to the World Bank, the African Diaspora contributed 83 billion U.S. dollars to the African continent in 2020, making them the largest investor in the continent. Meaningful engagement between the African Diaspora and the African media can improve awareness and amplification of the role of the African Diaspora as a major contributor to the continent's growth. Notably, arguments about the role and place of the African diaspora on the continent have been based on the financial contribution of the African diaspora. While important, there is a greater significance to this position, as the diaspora community holds the vast majority of Africa's intellectuals and professionals whose ideological contributions are equally beneficial to the growth and development of the continent.
The consequences of negative media effects in the framing and propagation of news stories also create a heightened need for avenues that foster synergy between the African Diaspora and the African media. This relationship will connect the continent and her diaspora for the much-needed information flows that are originally African. We must intentionally turn to the African media as the most objective group of storytellers that can transform the narrative on Africa.
Improving the relationship between the African media and the African Diaspora can also guarantee infrastructure governance through holistic content production that focuses on the impact that ideas and financial contributions from African Diaspora accrue over time.
This heightened awareness is why the African Diaspora Network partnered with Baobab Consulting to emphasize the important relationship between the African Diaspora and Africa Media, and to inspire continued participation of the various stakeholders. "The genesis of ADN was simply to make sure that our voice was heard. When people speak about Africa, I want to make sure that Africans are at the table," Almaz Negash, Founder of the African Diaspora Network, remarked in her opening address at the #AfricaDayMediaRoundTable.
African Diaspora Network (ADN) works to uplift Africa and the African Diaspora by providing virtual and physical forums that accelerate access to resources that foster partnership, knowledge sharing, and advance investment opportunities. Similarly, Baobab Consulting, an Africa-focused social impact firm, is home to expert cross-cultural communicators who utilize digital media, training, and research to promote equitable international collaboration in business, politics, social advocacy, and education. 
The role of the media in the portrayal of Africa
Portraying Africa in a 'truthful yet positive' manner is the ideal version of Journalism needed for the continent. Journalists on the continent and in the Diaspora work hard to bridge this gap. There is a lack of positive content about Africa to diminish the negative effects of media priming handed down by the western gaze. Media priming refers to the effects of media content on people's later behavior or judgments in relation to the content that was processed.

The narrative of the Western media on Africa has caused poor judgment about Africa to prevail, and Africa is almost always viewed as helpless, war-torn, or poverty-stricken. Objective truth is true no matter what, and truth-telling is a choice. Alasdair MacIntyre remarks that we "understand our lives in terms of narrative" (1991, p.197), therefore the absence of narrative equals an absence of meaning. Narrative can be a way of structuring thought, so we can measure the reliability of the 'world a story creates' by simply checking the degree to which a narrative is free of contradictions.
The role of the media in the portrayal of Africa is delicate. Journalists must become sensitive to media biases or human limitations, and Journalism must be grounded in the theoretical understanding of the media landscape. Also critical is the delicate role that digital technologies play in the mediation of journalistic content during production and dissemination.
This changing media landscape, especially in the last five years has seen reporters around the world grappling with journalism's new reality. With the impact of COVID-19, new media channels have become the crossroad for people, governments, and laws to interact.  Some insights on the role of the media from the #AfricaDayMediaRountable emerged from responses to these questions:
How has the role of the media changed in the past five years?
What are the kinds of stories you feel passionate about telling?
Ciku Kimeria shared her experience as a Kenyan Journalist based in Nairobi. She works as the Africa Editor for Quartz, a media house that focuses on technology, innovation, and business. "When we are thinking about global media, we still see media houses that will have extremely negative coverage on the continent. But I think now they work with a kind of fear and tribulation. The global media has always had a negative bias towards the continent, but it's getting harder to get away with it" she said.
Ciku cited that one major change in the media landscape today is the heightened use of digital media channels that have made many issues apparent in real-time. This has helped citizens and African journalists bring to bear what was once a damaging narrative, often hard to combat behind the scenes. One such example is how big media houses are now being called out online for their use of black and brown hands to illustrate the recent monkeypox outbreak in Europe.
The challenges for African storytellers
Journalists around the world are tackling the same problems from disinformation to authoritarianism and media suppression, but African storytellers continue to suffer disproportionately. The #AfricaDayMediaRoundTable provided a unique opportunity to learn about these challenges from frontline media practitioners:
What are the biggest challenges you face and how can ADN help?
Akindare Okunola works in Lagos, Nigeria as a Content and Communications Manager for Global Citizen, a non-governmental organization based in New York that campaigns on the United Nations Sustainable Development Goal (SDG-1) to end extreme poverty in the world by 2030. In his experience, the challenges for African storytellers are cultural in nature."The baseline challenges are similar…but the differences all come down to local context. The way people are going to react to a video about something in South Africa is different from the way people will react to a video about that same thing in Nigeria." Akindare explained that any technical challenges with creating different forms of content (e.g text, audio, or video) do not border much on the format as much as it does on context.
Some other technical challenges are due to decreased mobility for most African passport holders. Ciku notes that although Quartz is set up as a digital publication, there are some stories that require movement to be well-rounded. Before the pandemic, travel was already a problem for many African passport holders, but with the COVID-19 pandemic resulting in travel bans for many African countries, mobility constraints were further exacerbated.
This challenge also presents a unique opportunity to innovate around Africa-focused content production. The lack of mobility is advantageous for content creators on the continent who can work to create a repository for hard-to-find b-roll or stock footage that give competitors (Getty Images, Unsplash, Flickr, etc) a run for their money.
Adewale Adekanbi is a Designer and Animator at NBC Universal. Within the institution, he Co-Leads the Black Employee Network, a cohort that convenes events and initiatives to help Black employees to feel wanted. "It's already built into the system that you can't find b-roll or stock images to create a positive image of people of color in general", he highlighted while speaking on ways to capitalize on the glaring opportunity. The economic value that a repository potentially holds, provides enough incentive for content creators on the continent to curate and sell footage globally while bridging the gap.
Framing and agenda-setting in media reporting on Africa
The global media permeates standards for how Africa is viewed by the rest of the world. The news as a nightmare gives rise to a world of sadness, suffering, and savagery. So-called investigative journalists are socially concerned with the "poorest of the poor" in Africa, yet their stories do not offer critique on the issue of poverty nor solutions journalism on poverty eradication in developing Africa.
If there is no clear indication that reporting a story will potentially bring about positive change, why report it?
We see the framing of news stories in places like the United States reinforcing negative biases that influence society adversely. When the US shot down an Iranian plane in 1988, it was referred to as a "technical problem" by the same US News outlets that later called the Soviet downing of a Korean jet a "moral outrage." The fact beneath the obvious bias is that both events were a tragic misapplication of military force.
Framing is the process by which the media places events and topics in perspective as part of a news report. The media perspective is often viewed as a strong contributor to public opinion and extremely important to public policy deliberation and national agenda formation. The # sought to understand the issues around media reporting on Africa from a global and local perspective:
Are there any inherent differences between working with traditional media versus media start-ups? 
When it comes to reporting on the African continent, what are the priorities of international media and local media? Is there any overlap between these priorities?

Felix Maringa is a Nairobi-based correspondent for Deutsche Welle (DW News) where he works to cover politics, economic impact, and human interest stories in the East-African region for a global audience. He summarized: "With local media anything that happens is news. The stories are limited (and ranked as news) based on their regional outlook when it comes to the international space. So if you're doing a piece in Nairobi about COVID-19 inequalities, you're not looking at Nairobi, Kenya as an entity but as a representative of Africa." 

Media reporting that offers a 'broad outlook on Africa' provides helpful information on why framing news stories about Africa and her diaspora may easily become skewed. To combat disinformation, audiences must learn to trust and accept a reporter's narrative only according to their assessment of their qualifications and attitudes – as revealed in the Journalists' general work ethic and previous news analyses, but not their viral click count.
At an organizational level, the differences between local and global news coverage are all about focus. The responsibility to cover African communities adequately in the news must be a focused priority for all stakeholders to ensure that the hyper-focus on trauma is diminished.
JC Whittington is based in Washington DC and covers beats related to the impacts of politics on race, gender, and culture in the United States. Following her time as a local reporter for CBS-affiliated WUSA Channel 9, she now works as a Video Journalist for a national news outlet, Politico. Speaking about the reactionary-style journalism that is common in US news coverage of the African-American community, she expressed; "I wouldn't say that there is a large team dedicated to focusing on what's going on in the continent (Africa) but I think that's an area that definitely needs improvement."
Active steps to improve the context of content that focuses on Africa can include, funneling Africans and African-Americans into global media organizations that lack diversity to create opportunities for African stories to be retold, or embracing citizen journalism and digitization in the media industry (global and local) that will allow real-time contributions from a mass audience.
Stakeholder coordination for effective media engagement
To guarantee access and use of African media platforms to amplify and exchange news about the continent and the Diaspora, the African Diaspora Network (ADN) and Baobab Consulting have called for effective coordination of all efforts aimed at improving information flows between both sides. Through the #AfricaDayMediaRoundTable the challenges faced by African storytellers have been matched with probable solutions churned out of research, lived experience, and reflective thinking:
Can you offer Diasporans some tips on how best to get their initiatives covered by African media?
What support do you need from the Diaspora to share their stories?
How can organizations like ADN Partner with your media companies to change the African narrative? What is a win-win partnership for you?

It is helpful to focus on solutions and mutually beneficial partnerships that contribute to the spread of positive narratives about Africa:

African storytellers can work to pitch stories to global media that highlight the needs, successes, and affairs of the continent and its diaspora. Since the news is all about the public interest, Journalists on the #AfricaDayMediaRoundtable says that quality pitches are typically diverse and have a news dimension. The overall success of a news story to be published is in its ability to foster connection. Human interest stories take precedence.
Further investments in the African media that help Journalists fund holistic projects are also needed. Partners are welcome from the continent and diaspora to collaborate on expensive ventures like setting up pan-African repositories and digital learning infrastructures that enable Journalists from developing Africa to succeed in the global media landscape.
At an executive level, media management will become increasingly important on the continent. The regulation of digital laws and policies will impact African storytellers and media organizations who must be protected in the same capacity as their intellectual property rights or media assets. A good strategy is to proactively seek professional advice and protection for contracts that threaten copyrights and/or journalistic freedom.
Support African journalists to train and develop their skills in academic and professional institutions where excellence in media and communications programming is by far distinguished. This will help to funnel Journalists on the continent into the global media landscape where change can be effected at scale.

Telling stories about Africa that will drive change on the continent requires Africans to own the narrative of the stories being told. This task is crucial and symbolic of the founding of the African Union; to promote the unity and solidarity of the African States.
Photo Attribute: Ono Kosuki and Muhammadtaha Ibrahim Ma'aji – pexels.com